Our train arrived like clockwork in Hamburg, and Kerstin, Heinz and one son, Jonathan, were waiting on the platform to scoop us up and take us away to their lovely home here. They fed us a quick lunch, and then we headed out to the countryside for a long and beautiful walk through a protected area which is a wildlife sanctuary, bird reserve, and all-around gorgeous spot for walking.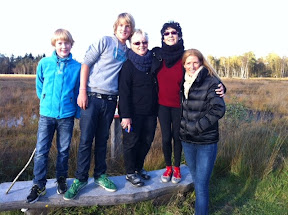 There was a long, loop trail, and even a section that was a raised dam built in prehistoric times, with an ancient trail across the top. We saw a sea eagle in the top of a tree, and two red foxes playing at the edge of a meadow. Kerstin's boys are budding naturalists. The oldest boy, Nicola, loves nothing better than fishing and being out in the wild.
We stopped for ice cream on the way home. Did you ever see two more adorable boys than these?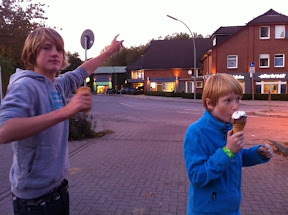 That first evening here we were treated to a typical German dinner, with great bread and many dishes of cheeses, cold cuts, salads, pickles, and an especially yummy dish of black lentils with creamy barrata cheese on top. Between the not-so-much-sleep on the train, and the vigorous hike, we were quite ready to crash when dinner was through, and we slept, amazingly, until nearly 9 the next morning. Our accommodations are the best here, so comfortable, and our hosts are the prince and princess of generosity and hospitality!
- Posted using BlogPress from my iPad
Location:Hamburg, Germany