Our second day in Hamburg was planned as a big excursion day. Kerstin and Heinz drove us to the beautiful old city of Lubeck, which sits almost on the Baltic Sea, near the channel to Denmark. This old red brick town was the home of Kerstin's maternal grandparents, as well as the home of Thomas Mann, Gunther Grass, and many other famous German artists and writers. We wandered around the old streets, went up into an old church sttple to look at the view, then sat in the Ratthaus Square for tea time.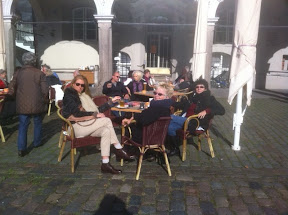 This city is also famous for marzipan, and there is a well-known store in the town center which has everything imaginable made of Marzipan, including many of the twins buildings reproduced in the windows of the store completely made of Marzipan!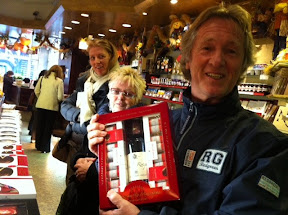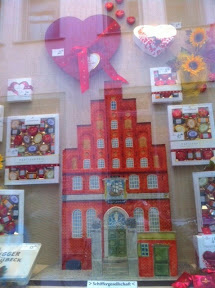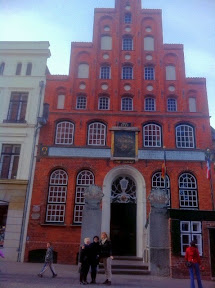 We took lunch at a place that was a shipping guild hall since about 1400 a.d., and it was a venerable spot, with hand hewn beam ceilings, painted murals from the middle ages, and long wooden benches with brass fittings. The ancient atmosphere complemented the great food we tried, schnitzel, rutabaga soup, wild mushrooms in butter, and delectable green salad.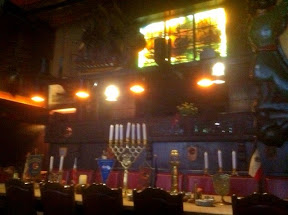 We visited Gunther Grass's house, and were amazed that not only was he an extraordinary writer, but also an amazing sculptor and painter. His collection is breathtaking, and made me want to re-read his books after so many decades.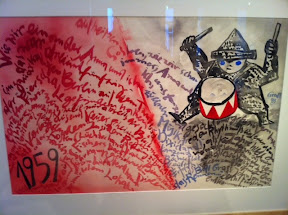 At about 4 pm we took off driving again, about an hour away, to the weekend home of some friends of theirs in a village right on the Baltic, where we were invited to a dinner party. But first, we had time for another walk in the woods! (Daniella and Kerstin went to an art galleries instead). But I went off with the men and the teenage daughter, Anna, along a wooded road deep into a forest, where we were assured we would see some game animals. Sure enough, about 20 minutes along the road we heard some noises. At first I thought it was a wild boar, as they saw one of those the day before. But it became apparent that it was elk, up on the ridge above us. We could see two males with big racks of antlers, and they were snorting loudly and making almost a loud purring sound. The men immediately set out up the hill, into the brush, to get closer. We were trying to move silently, and got into some deeply swampy places, but we were able to get up close enough to see them clearly against the meadow and the setting sun. We watched them for a long time, then circled around up the hill above them, and took another trail back to the house. On the walk back we encountered a herd of female elk, about 20 in all, grazing in another meadow. It was all very exhilarating, and invigorating, and we arrived back in pitch darkness with a good appetite for the dinner ahead.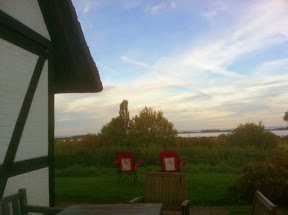 Our hostess had made a big roaring fire in the fireplace, and she served "raclette", something I've never had before. It is a Swiss dish, a cousin of fondue, with a special brazier on the table. Each person gets a personal little frying pan, which we filled with boiled new potatoes, sliced meat, and slices of raclette cheese. Then we put our little pans under the brazier and waited for the cheese to melt all over everything. We did this over and over, and also garnished our raclette with various pickled veggies, another delicious items, and a great selection of wines and local brewed beers. YUM!!
We did not get back to Hamburg until nearly midnight after that, and once again crashed against our pillows like a couple of sinking ships. But oh it was great fun!
- Posted using BlogPress from my iPad
Location:Hamburg, Germany