Oh lucky me! I started yesterday with an early morning stroll down one on the nearby back roads. Although there was a steady sound of shotgun fire on nearby farms, I felt safe walking between the sturdy stone walls that line each side of the roads here. I saw this beautiful old trulli hut, abandoned now, in an olive grove with the twisted and gnarled ancient olive trees still standing and producing after centuries of weather and history have rolled over them.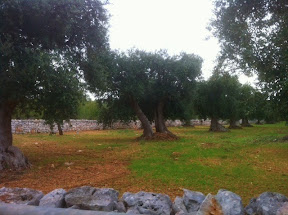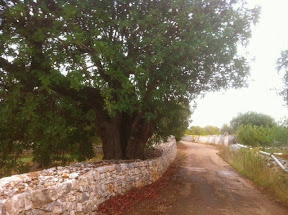 Back at the Masseria (below) we had another day of encaustic class, punctuated by another stunningly divine lunch.
Lelo made stuffed zucchini flowers, once again spaghetti with lemon (because we begged him to!) and something I've never before had or even heard of. He picked a wide range of fresh herbs - rosemary, basil, mint, chives, etc. and fried them individually in a light batter. To say exquisite doesn't even cover it! Here is what they looked like, and below is Lelo preparing the squash blossoms.
In the evening we went into Polignano al Mare, a charming little seacoast village perched on rocky cliffs above the splashing sea. Here we wandered around town for awhile, engaged in delightful chats with various storekeepers, and finally met as a small group for a lovely dinner. The place was Chichibio, a fish specialty place, very elegant and homey at the same time. Daniella and I split a platter of San Pietro fish (?), a meaty white fillet oven-roasted with potatoes, olives, and tomatoes, very good. We also split a creamy canoli in hot fudge for dessert, then waddled out into the piazza ........ where there is this larger than life-size statue of homeboy, Domenico Medugno who was once upon a time (in my childhood I think) very famous for one song, Volare. Volare, oh oh, Cantare, oh oh oh oh! Nel blu depinto del blu, felice restare la su. The rest is gone, along with much of my memory, but I always remember how much I love to be in Italy.
- Posted using BlogPress from my iPad