Somehow this post got completely lost in the crazy stuck-ness of the internet over the last few days, so I'm recreating it now. We left our beautiful Italy behind us on the 12th of October. We felt so sad to leave Marina and Lello, the wonderful couple who cared for us so lovingly and cooked us the most startlingly delicious meals every day. We felt truly connected with them at the heart, and know we will see them again! Thank you both for every sweet and spicy thing!!
We drove to our next location along many winding back roads, where we feasted on the sights of the Puglian countryside, such as this amazing pink villa.
Our last night was spent at this gorgeous Masseria of Santa Teresa, something we found on the Internet for the crazy last-minute price of €68 which included a deluxe room, this infinity pool, and a huge and varied buffet breakfast in the vaulted room below. This place sits on a hillside a few miles inland from the Adriatic, and looks out to the sea and to the small seaside town of Monopoli. It was spectacular, but the atmosphere lacked the warmth and happiness of the Masseria Della Zingara.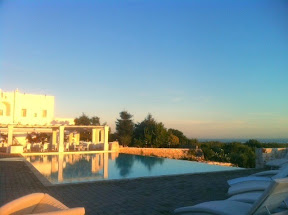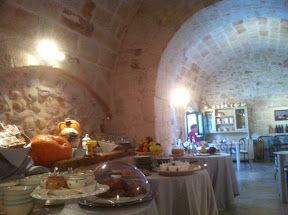 The next morning we spent a bit of time walking around in the old seaside town of Polignano al Mare, enjoying the lovely weather and the sights and sounds of ordinary life here. Everyone was a hanging out laundry, shopping, sitting on chairs outside their doors, shouting from balcony to balcony, a regular little real-life operetta. The sign below advertises a horse-meat butcher shop.
Finally at about noon we dropped our rental car in Bari and headed for the train station for the ride north.