We are in Italy, today traveling on a first-class high-speed train on our way from Rome to Bari, a 4 hour trip. This is deluxe travel, lovely seats, big windows, and a steward who brings free coffee, tea, and snacks, even free champagne! The views are enough to bring tears to my eyes, all the green hills, small hill towns, cedar trees, small farmsteads, olive groves, vineyards. The beauties of the Italian countryside are unchanging and on such a human scale.
Our flights to Rome were predictably exhausting. We went on Iberia Air, and let's just say that we were underwhelmed with their offerings. We flew to Chicago, then Madrid, where we landed in a blazing orange and magenta sunrise, raced through the airport, and made our connection by the skin of our teeth. So much for seeing even the Madrid airport,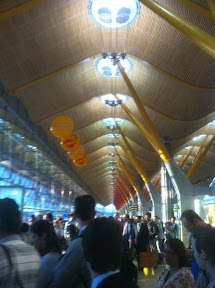 which we could tell was stunning! We landed in Rome at about noon, took a train to the termini and then to our little hotel.
Our room was small and comfy and had so many elements of purely Italian decor, like the ceiling to floor silk drapes, the wall to wall headboard that dwarfed the bed, and the cupids flying above the bed, their arrows all pointing down at the pillows suggestively! The shower was a tiny quarter circle cubicle that Daniella dubbed "the water boarding shower" thanks to the drowning shower head that filled every inch of the overhead space with water, so that breathing was an issue. But we are clean!
We spent a lot of our half-day in Rome trying to find butane canisters for the class to use. We telephoned every hardware store and camping goods store we could find on the Internet, to no avail, until D. remembered that we had seen a Korean restaurant in the neighborhood. We went right over there and sure enough, they told us where they buy them (a must-have for Korean cooking). We took a cab right to a small Korean grocery store where we were able to stock up on exactly what we needed! What a relief!
After that we went over to Campo dei Fiori, Piazza Farnese, and Piazza Navonna, favorites from back in the day when I lived in Rome. The Campo has gotten to be so tourist-centered that it seemed very changed and not so nice. But the rest of the area is the same, including the little courtyard at Arco degli Acetari where we had an apartment. We ate dinner outside on a piazza, fresh spinach, tortellini with piselli, bacon, and mushrooms in a cream sauce. Life is good! And so today we travel to Puglia!
Daniella also is keeping a blog,
www.encausticopolis.blogspot,com
Posted using BlogPress from my iPad
Location:On a Train Between Rome and Bari