We are finished with the class here in Puglia. The last couple of days have brought us more indescribably delicious meals, a day of dramatic thunder and lightening, and rain (but fortunately no power outages). The air here is so fresh and pure and beautiful.
We had an all- group excursion yesterday to the famous town of of Alberobello, which has a large old- town center completely of stone trulli houses dating from the 1400s. It is a hilly place, and all the winding lanes are too narrow for cars to get through.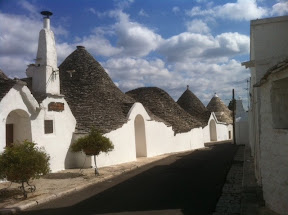 We spent about 4 hours wandering the many picturesque side-streets and absorbing the local flavor of this small town. I was here some 40 years ago, and while the outskirts of town have expanded with modern buildings, the old town remains the same.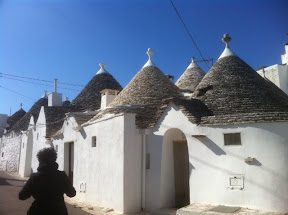 This afternoon, after lunch, we will pack up the studio and head to one more night in another Masseria closer to the sea. Tomorrow we board the train for Hamburg! But what a joy to have been back in Puglia for this week!!! I love Italy!