Yes, rain again yesterday. After we ducked into a little patisserie down the block for a morning chai latte, we were kindly picked up by Derek Parker, our host for this current workshop. Derek owns the
Parkers Art Supply
store where our workshop is happening. For starters, I carried along a bag of dirty laundry. We had spotted a laundry where you can leave your washing for a day and pick it up in the afternoon all clean and folded. I dropped it off at 9, but in the churn of the workshop, forgot to pick it up! They were closed, of course, when I remembered, and today is Sunday. Have no idea if they will be open, but if not, our luggage just got pounds lighter! Not such a bad thing we reckon.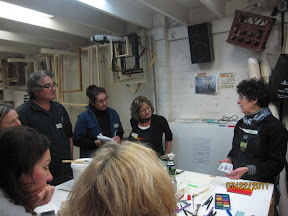 This was an amazing workshop, full of many professional artists, many of whom regularly show at big galleries in Australia. Some of them have been experimenting with encaustics, and all of them were loaded with technical questions that took up the first two hours of the class, bam, right out of the gates! Daniella is eminently equipped to answer anything thrown her way, and so she made an impressive start to the morning. By mid-afternoon, people were making the most beautiful art works already. Can't wait to see where they take it today, but they are an exciting group, and SO thrilled to get this great class that Daniella offers.
At the end of the day, Derek and his partner,
Celia Gullett
, took us to her studio to see her beautiful oil paintings and collages, all inspired by the Australian bush. We drank Moet Chandon and talked about art. Next we went down to the Rocks section of Sydney for a lovely Japanese dinner together.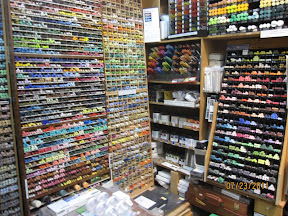 Then, like a magical mystery tour, Derek opened his art store and took us on a tour of the most magnificent art supply palace we have ever seen, stocked with the finest of artists mediums, papers, and canvases. We were stunned by the scope of it, by the beauty of the displays, and by Derek's generosity as he loaded up Daniella with an armful of gifts.
And today, Sunday, the forecast is for sunshine! We will be inside in the workshop most of the day, so we won't notice much. But sunshine, now there is a concept......Then tonight we pack up all our boxes once again to get them ready for shipment to Brisbane for workshop number 6, the final curtain call. This month has flown by, and at the same time it seems like we've been away for months.
- Posted using BlogPress from my iPad
Location:Sydney, AU