It has been said that it takes 3 days for the soul to catch up with the body when traveling across big time zones. Today, July 1, is technically our third day out and after a great sleep, we feel like new women today. Enough kvetching about our yesterday's glitches. Today we start over.
We did pull ourselves together after our first bkfst, including Vegamite on a croissant (!) and took the free loop bus down to the harbor. There we boarded a ferry to Manly Beach, a part of the city so much like Capitola, CA, or Sarasota, FL, totally laid- back and beachy.
The grand Opera House sailed by us on this ride, sails billowing, as we put-putted along. When we got back, we walked around the Rocks area and out onto the big Bridge that Oprah recently climbed. We had no juice for climbing, but it was lovely to be out in the middle of that bridge viewing Sydney from high up.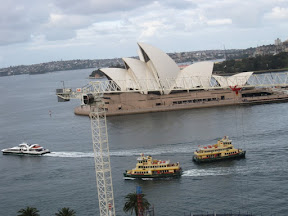 After stopping at a pub for a cider, we stumbled back to the hotel and fell gratefully into bed at about 6 pm AU time, just done done done.
Oh, and one more thought. We always talk about people's karma catching up with them sooner or later, and we think ours caught up with us yesterday. Many years ago we stayed for 3 nights in Las Vegas at a very nice hotel, and never were billed for it somehow. Last night we stayed at a nice hotel in Sydney and also paid for the two additional nights we missed by messing up our arrival dates. Karmic debt paid I guess!
- Posted using BlogPress from my iPad