Drenching rain continues here. Yesterday I went out for an hour-long walk in the morning, despite it. When it got too bad, I stopped under some overhang and sometimes got to chat with others who were seeking shelter from the massive amounts of water coming down. I walked in a neighborhood near us called Paddington, where most of the contemporary art galleries are located. I also saw a lot of these gorgeous old gum trees, just huge! Yes I got soaked, But it was worth it!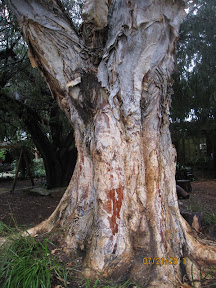 At noon we went out with our lovely and generous friend Susan. She first took us to a nearby gallery to seen the work of
Jenny Sages
, an Australian encaustic artist. The work was beautiful, and we also got to watch a DVD of Jenny working. She was not totally new to us. When we went to the Archibald portrait exhibit in Tarawara, her portrait of her (now deceased) husband Jack was one of our favorites of all in that show.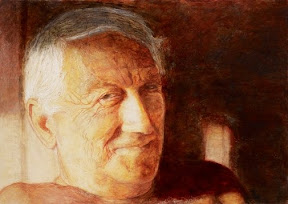 Next we drove over to Darling Point and Double Bay, two of the poshest areas in Sydney. There we did a little banking, some sightseeing, etc. The photo below was taken from the street where Nicole Kidman and Tom Cruise lived when they were together, complete with on-street security guard. The view is across a harbor to the city skyline, spectacular even in the wet conditions.
After a scrumptious lunch in Bondi Beach, we came back to the hotel to regroup. At 5 pm we took a train to
Parkers
, the location of our next workshop. In two hours, we got all set up and ready to start this morning with workshop number FIVE. What a marathon this has been! Derek Parker, the owner of this framing and art-supply business, is the fourth generation of Parkers to own this shop. He remembers working with his grandfather when he was a child, and most of the great art work of Australia for the past 100 years has passed through the hands of this shop. We are honored to be presenting in this venerable location, and delighted to get to know Derek!
Location:Sydney, AU