I've been longing to get out into the countryside, and yesterday we managed to do it. Since we aren't driving here in AU, we signed up for a day tour into the rain forests, south of here. Our driver picked us up at 6:30 am in this
4WD vehicle
, and off we went.
We drove south along the Gold Coast for about an hour and a half until we got to
Surfers Paradise
, a city that looks like Miami Beach, miles of beaches with golden sand, and miles of high-rise hotels and luxury apartments lining the beach fronts. It was indistinguishable from many US luxury beach areas. In fact, much of the Brisbane area is indistinguishable from much of California. The city has every American excess, every junk food outlet imaginable, big box stores, glaring advertising in the metropolitan areas. It is a fairly young city, brash, and a bit vulgar in my opinion. And the countryside, similarly, looks just like California with a few exceptions.
We turned inland and drove a long way back into the interior where we began climbing the steepest, most winding road I've ever experienced. It wound up and around some mountain ridges for 42 kilometers before we reached the top and our first destination,
O'Reillys
, which is really a resort on the so-called Scenic Rim, that once was a ranch. In the middle of the
Lamington National Park
, it is a few acres scraped off clear in the middle of a dense forest of eucalypts and boo yang trees and many we could not identify. We learned, for example, that the aboriginals made boomerangs from cutting out pieces of the root shown above, which already has a natural curve in it.
The big attraction here was the catwalk through the treetops which meandered throughout the area and gave us the opportunity to examine the trees up close. Here is my favorite cat walker!
After the driver served us tea at a picnic area, we had to fasten our seat belts for the descent, which was all on a rutted and horribly eroded dirt road called
Duck Creek Road.
It took about 45 minutes to get down the road, jouncing all over the place. We stopped occasionally to look at the outstanding views from the roadside.
When we emerged, we drove through farms and many horse raising areas, very beautiful. On this journey we saw five kangaroos in the wild - three jumping across the field, one sitting bolt upright, and one crouched down in a golden meadow. I also saw a kookaburra, a wild turkey, and a gorgeous rose and grey parrot. But the wildlife spotting was very disappointing in general. We drove so fast through most places and there was no time to be still and look around.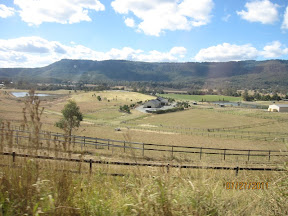 After a picnic lunch near the little town of
Canungra
, "place of the owls", and another looooooong drive, we got to our last stop, a
beautiful waterfall
in deep forest in Springbrook National Park, that falls through a stone arch with a deep stone cave behind it. Normally the cave is full of glow-worms, but there were none to see when we got in there. Only the pretty waterfall.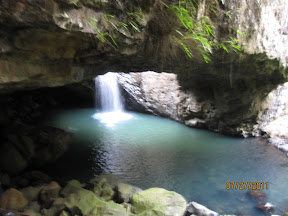 Back into the 4WD for an endlessly long drive back to the city, stuck in traffic for most of the last hour. Overall the day had some interesting moments but not enough to justify a whole day, and all that driving. At least we saw some of the countryside, even if while whizzing by.
Got to our hotel at about 6:30 pm, tired and hungry. Since we have come to believe that our B&B sits in the middle of a dead zone (no public transport, no food, nothing but houses) we did a little Internet research and decided to walk out in a new direction. Lo and behold we found ourselves in Chinatown, just a ten minute walk from here. Had a delicious Vietnamese dinner, and thus ended a very long day with a bit of a sweet finale!
Posted using BlogPress from my iPad
Location:Brisbane, AU